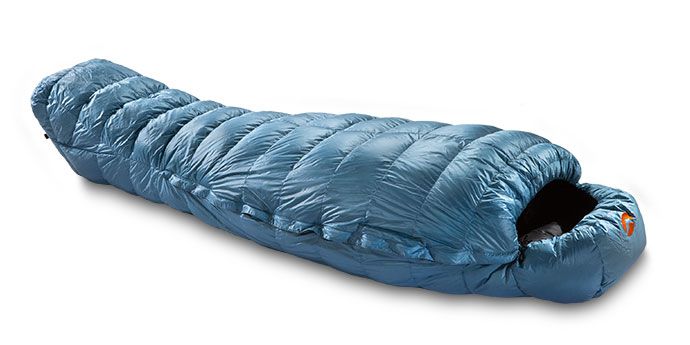 The new
Shocking Blue NEO
is now 4.4% lighter. The expedition oriented zipper (53" vs. 69") and 32 precut anatomical baffles are what gives the Shocking Blue such favorable weight savings. The Shocking Blue NEO is a high quality four-season sleeping bag designed for cold weather expeditions at high altitude. Due to its compatibility with the Valandre Combi full-body down-suit and its relatively low weight, the Shocking Blue NEO has become a standard bag in the high camps of the big mountains.
Construction:
The
Shocking Blue NEO
has revolutionized sleeping bag designs as it is complexly constructed with 91 different pieces in 3D, with a simple inside stitch on all baffles. The 32 individual compartments are mounted using the second-generation tubular technology of h-box wall pre-cut and shaped anatomical shaped baffles. Throughout the bag, the baffle height varies, with a smaller height on the leg section and a increased height on the body/chest section. The hood of the Shocking Blue NEO uses a 3D half moon technique that offers maximum insulation. This type of baffle construction allows the bag to maintain its optimal loft, standing up on it's own and not letting gravity compress the down—almost giving the user the feeling that the top of the bag is merely floating above them.
Draft Collar:
As the bag is a cylindrical tubular bell design, the Marie Antoinette draft collar is incorporated much like the draft tube. The hole of the draft collar is big enough to seal off your neck with a down jacket on.
Foot Box:
The
Shocking Blue NEO
features the "Pyrenean foot box", a reversed trapezoidal and slightly angled down foot box that follows the natural flex of the feet. The foot box is mounted using pre-cut anatomical baffles. The end result is a foot box capable of holding itself up to eliminate all physical and direct contact between the toes and the top of the foot box.
Fill:
The
Shocking Blue NEO
is filled with Valandre's 95/05 "fatty" gray goose down (OIE 95/05) from the south west of France. This down provides a unique and totally mature quality that has a fill power of 850+ cubic inches. It's strong and long lasting with excellent moisture resistance.
Specs:
Temp Ratings: -44ºF (extreme), -3ºF (limit of comfort), 12ºF (comfort)
Total Weight: 2lb 11oz/1250g (sm), 2lb 14oz /1320g (md), 3lb 2oz /1430g (lg)
Outside Length: 78.7"/200cm (sm), 84.6"/215cm (md), 90.6"/230cm (lg)
Inside Length: 66.9"/170cm (sm), 72.8in/185cm (md), 78.7"/200cm (lg)
Shoulder Circumference: 61"/155cm (sm), 65.4"/166cm (md), 69.7"/177cm (lg)
Hip Circumference: 52.8"/134cm (sm), 56.7"/144cm (md), 60.6"/154cm (lg)
Foot Circumference: 39"/99cm (sm), 41.7"/106cm (md), 44.5"/113cm (lg)
Compressed Volume: 549in3/9L (sm), 579in3/9.5L (md), 610in3/10L (lg)
Total Weight: 2lb 11oz/1250g (sm), 2lb 14oz/1320g (md), 3lb 2oz/1430g (lg)
Fill Weight: 1lb 9oz/720 g (sm), 1lb 11oz/771 g (md), 1lb 13oz/827 g (lg)
Fill: 95/05 "Fatty" Gray Goose Down – 850+ fill power
Outside Fabric: Asahi-Kasei 100% Polyamide Nylon 6.6 rip-stop – DWR treated
Inside Fabric: Asahi-Kasei 100% Polyester rip-stop anti-static – DWR treated
The Valandre Shocking Blue NEO is available at your favorite Valandre dealer.
Valandre is exclusively distributed in the U.S. through Liberty Mountain. Contact the Liberty Mountain Sales Team to become a Valandre dealer today.
____________
Share this article with a friend: